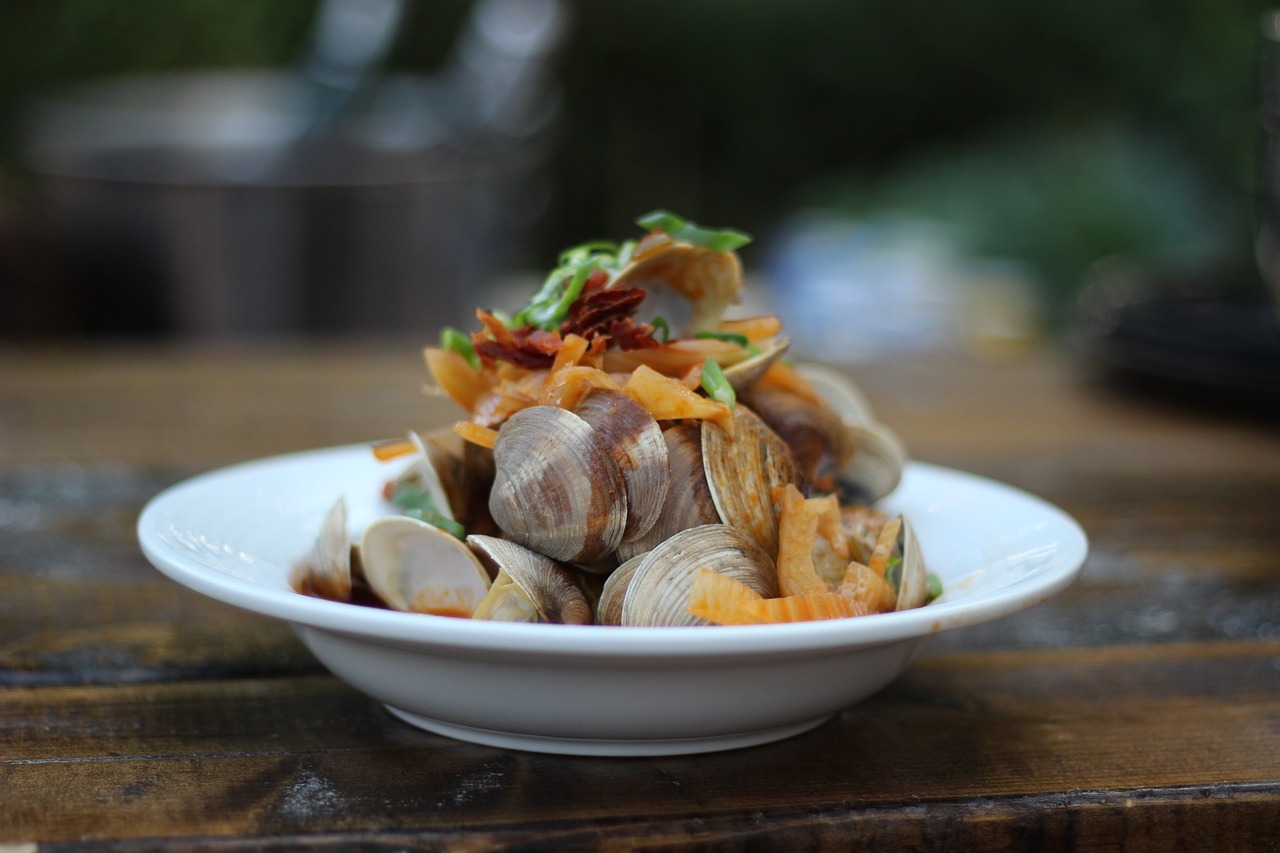 Clambakes
Our mouth-watering New England style Clambakes are cooked fresh on site at your event location by our Bake-masters and served buffet style by our friendly and efficient staff.
Here are our most popular menu options.
We can also create a custom menu to fit you needs
The Clambake
Garden Fresh Salad
Bakery Fresh Rolls & Butter
Steamers (Clams & Mussels)
Choose of Whole Maine Lobster (1.25 – 1.5 lb] – or Grilled Chicken Breast
Butter
Steamed Red Potatoes
Jersey Corn on the Cob (in season)
Farm Fresh Watermelon
35 – 99 people – $32.95 – $35.95 per person
35 Person Minimum 300+ or Less Than 35
Please Call for Custom Pricing
The Deluxe Clambake
Everything in The Clambake PLUS
Choice of New England Clam Chowder or Shrimp Cocktail
Seasonal Vegetable Platter with Dip
Assorted Beverages Soda Bottled Water iced Tea and Lemonade
35 – 99 people $40.95 – $43.95 per person
100 – 299 people $41 95 per person
35 Person Minimum 300+ or Less Than 35
Please Call for Custom Pricing
Substitute 12 oz Rib-eye Steak for Chicken on Any Clambake for Add $6.95 pp
*Based Upon Market Lobster Prices
Full Buffet Service Includes: Staff, cooking and serving equipment utensils. buffet tables and linens, on-site cooking and buffet service to your guests, condiments, quality disposables, lobster, ribs/crackers. trash cans w/ liners & buffet clean up.
We can help you with your rental needs (chairs tables,etc.).
For All Catered Events:
Minimum menu total is $1200. Please add a 20% On-Site Buffet Service Fee and appropriate State Sales Tax.
Signed Contract and 35% deposit is required
Guaranteed Minimum Head Count is required upon booking and final head count 7 days before event.
See Full Terms and Conditions for more information. All Prices subject to change without notice. Prices locked with signed contract
CLAMBAKES TO GO
Clambakes to Go
You be the Chef and impress your Guests!
Clambake-To-Go    Ocean County Only
Our Clambakes-To-Go is packed seasoned and ready to cook.
All you need is a stock pot and add water, beer or wine, set it on a stove or grill and get ready to enjoy the best cookout you've ever had! You can also rent our equipment for larger parties.
Great For: Beach Parties, Picnics, Boaters, Campers, Anytime!
Each Includes
(1) 1.25|b Lobster
Steamers (Clams & Mussels)
Corn on the Cob
Red Potatoes
Shrimp & Cocktail Sauce
Cooking Instructions
$29.95-$32.95 per person + tax
(minimum 10 people)
Equipment Rental for larger parties includes Stock Pot, Propane Tank, Stand 8. Burners, and Instructions for Use.
$50 Rental Fee + Refundable Deposit for Equipment.
Clambakes-To-Go Available to Ocean County Only
Delivery fee may apply – inquire for rates in your area.
Please order no later than (2) days in advance.
Why spend hours waiting to eat at a restaurant when you can enjoy
a delicious seafood feast in the comfort of your own home?
We'll Bring it right to your door!
BBQ and Picnics
Our delicious Picnic Parties and BBQS are cooked fresh on site at
your event location by our Grill-masters and served buffet style by our
friendly and efficient staff. Here are our most popular menu choices
We can also customize a menu to hit your needs.
The Picnic Party
Garden Salad w/ Choice of Dressing
Lean Hamburgers/Cheese & All-Beef Hot Dogs w/ Soft Buns
Grilled Marinated Bone-In Chicken
Choice of (2): Homemade Coleslaw, Potato Salad, Macaroni Salad or Pasta Salad
Jersey Corn on the Cob (in season)
Farm Fresh Watermelon
50-99: $16.95pp 100-299: $15.50 pp
300+ or Less than 50: Please call for Custom Pricing
The Texas-Style BBQ
Garden Salad w/ Choice of Dressing
Baby Back Ribs w/ Texas Barbecue Sauce
Barbecue Bone-In Chicken
Baked Beans & Homemade Corn Bread
Choice of (2): Homemade Coleslaw, Potato Salad
Macaroni Salad or Pasta Salad
Jersey Corn on the Cob ( in season)
Farm Fresh Watermelon
Traditional Catering
Appetizers
Maryland Style Miniature Crab Cakes w/ Remoulade Sauce $3.50/person
Shrimp Cocktail Platter $3.25/person
Assorted Cheese Platter w/ Crackers and Fruit $2.25/person
Stuffed Mushrooms – Crab-meat & Crisp Butter Cracker or Sausage with Spinach and Parmesan $4.95/person
Seasonal Vegetable Crudites Platter w/ Choice of Dip: Ranch, Dill, Onion Garlic or Vegetable Herb $1.95/person
Fresh Mozzarella, Basil and Tomato w/ Balsamic Reduction $6.95/person
Tomato Bruschetta on Herbed Tostini $3.25/person
Assorted Puff Pastry – Baby Quiches, Veggie Tartlets, Cheese Puffs, Miniature Cocktail Franks with Mustard Dijon Sauce $2.50/person
*Note: Some appetizers may require heating/reheating in oven.
Salads*&*Breads
Crisp Garden – Romaine Hearts, Tomatoes, Cucumbers, Carrots, Red Cabbage and Choice of Dressing $1.95/person
Caesar – Romaine Hearts, Herbed Croutons, Fresh Grated Parmesan Cheese and Caesar Dressing $2.25/person
Country Harvest – Mixed Baby Greens, Walnuts, Craisins, apples, Blue Cheese and Cinnamon Honey Dressing $3.50/person
Spinach – Baby Spinach w/ Bacon, Herbed Croutons and Crumbled Egg $3.50/person
Fresh Baked Dinner Rolls $1.25/person
Assorted Artisans Bread Basket $2.50/person
Fresh Baked Corn Bread $1.25/person
Soups
Chicken Noodle • Beef Barley • Italian Wedding • Minestrone • Pasta Fagioli Butternut Squash Bisque • Pumpkin • Cream of Wild Mushroom • Cream of Potato * New England Clam Chowder • Maine Lobster Chowder • Roasted Corn Chowder
$9.95/Quart (Serves 5-6)
Sides
Creamy Whipped Mashed Potatoes 1/2 Tray $25 ~ Full Tray $35
Seasoned Roasted Red Potatoes 1/2 Tray $20 ~ Full Tray $35
Vegetable Rice Pilaf 1/2 Tray $20 ~ Full Tray $35
Egg Noodles w/ Brown Butter Sauce 1/2 Tray $20 ~ Full Tray $35
Green Beans with Almonds and Caramelized Onions 1/2 Tray $20 ~ Full Tray $35
Creamed Spinach 1/2 Tray $20 ~ Full Tray $35
Baby Carrots w/ Dill Butter Sauce 1/2 Tray $25 ~ Full Tray $45
Roasted Mixed Vegetables 1/2 Tray $25 ~ Full Tray $45
Desserts
Assorted Bakery Fresh Cookie Platter $1.75/person
Bakery Fresh Brownie Platter $2.25/person
Fresh Seasonal Fruit Salad $1.95/person
Bakery Fresh Pies – Apple, Pumpkin, Cherry, Pecan (Each Serves 6-8) $12/each
If you don't see something you would like, just ask and we will let you know if we can provide it for you.
Add Ons:
Paper-ware – Quality Paper Plates, Napkins and Disposable Utensils $5 per 25 people
Serving Utensils $3.50/ea
Serving Set – Chafing Rack, Sternos, Water Pan & Serving Utensils $8.50/set
Full Buffet Service: Cost is 20% of Menu Total; Minimum $950 menu total required and additional terms as noted below.
Includes:
Buffet set-up and all chafing dishes, hot and cold serving dishes, utensils, and quality disposable paper-ware and utensils.
On-site staff to assist guests during buffet service at buffet line.
Take down and clean up of buffet at end of event.
Client is responsible for: buffet tables/linens, guest tables & chairs, and trash receptacles/disposable.
We can help you with your rental needs and additional service staff or bartenders.
Please Note:
All prices subject to 7% NJ Sales Tax.
All prices subject to change. Prices locked with signed contract.
Minimum for drop-off catering (hot food trays) order is $250 and full buffet service is $950.
All catered events require a signed Event Contract and 50% deposit to hold the date.
Delivery fee will be applied for orders over 50-mile round trip.
MENU ADDITIONS & CREATE-YOUR-OWN
Menu Addition
Appetizers*
Price Per Person
Shrimp Cocktail Platter
$3.50
Seasonal Vegetable Crudités Platter w/ Dip
$2.25
Assorted Cheese Platter
$2.75
Seasonal Fresh Fruit Salad
$2.50
New England Clam Chowder (w/ Oyster Crackers)
$3.75
Maine Lobster Chowder (w/ Oyster Crackers)
$3.75
Maryland-Style Miniature Crab Cakes
$3.75
Buffalo Wings (w/ Bleu Cheese & Celery)
$3.25
Stuffed Mushrooms w/ Seafood or Sausage Stuffing
$4.95
Fresh Mozzarella, Basil & Tomato w/ Balsamic Reduction
$6.95
Fresh Bruschetta on Panetini Toast
$3.50
Blue & Yellow Corn Chips w/ Salsa & Guacamole $2.50
Pita Chips w/ Hummus $2.25
Raw Bar
Choice Little-neck Clams on the Half Shell
Fresh Oysters on the Half Shell
Shrimp Cocktail (Cooked & Peeled)
Includes: Shucker, Ice Bar, Lemons & Sauces $16.25 (25-99 ppl)
$14.75 (100+ ppl)
Entrees & Sides
Price Per Person
Chicken & Vegetable Kabobs
$7.95
Shrimp & Vegetable Kabobs
$10.95
Chicken Breast – Marinated & Grilled
$7.95
BBQ or Marinated Bone-In Chicken
$7.25
Texas-Style BBQ Spare Ribs
$8.75
Italian Sausage & Peppers
$5.95
Steamed Crabs
Market Price
Extra Lobster (w/ Clambake)
Market Price
Steamers (Clams & Mussels)
$9.50
Lean Hamburgers/Cheese & All-Beef Hot Dogs
$4.95
Extra Fixings (Lettuce, Tomato, Onion, Pickle)
$1.95
Vegetable Burgers
$5.25
Rib-eye Steak (12 oz)
$13.50
Grilled Marinated Summer Vegetables
$4.50
Jersey Corn on the Cob (w/ Butter)
$1.75
Steamed Red Potato
$1.50
Baked Beans
$1.75
Homemade Cole Slaw, Potato or Macaroni or Pasta Salad
$2.75
Red Bliss German Potato Salad $2.75
Three Bean Salad $2.25
Pesto Pasta Salad $2.75
Sun-dried Tomato Penne Salad $2.95
Caprese Salad $3.50
Clambakes Catering
Clambakes Co.Clambakes Catering Co. is a unique catering company specializing in New England-style Clambakes and home-style Barbecues. We bring a unique flavor to your special event. We also provide a full Traditional Catering menu for all your special events.
Please visit our menu selections on our navigation menu.
If desired, we'd be happy to customize a menu to fit your needs.
Whether you're having a small party of people or a large event of 300, our professional and friendly staff will take care of all the work so you can sit back, relax and enjoy your guests.
With an Event Catered By Clambakes & Catering Co. You'll Receive:
Delicious food prepared fresh for each event.
Outstanding customer service from your first call to the day of your event
A friendly, courteous, and professional staff that will cater to all your needs and make your guests feel special.
Experience – we have over 20 years experience in food service and event planning.
Value – Prices are guaranteed when you book (no surprise hikes in seafood prices) and portions will be plentiful.
The personal touch of a small family company – catering is all we do!
Whatever the Occasion, let Us Help You Make Your Next Event Festive, Fun & Unforgettable!
Terms and Conditions
Terms and Conditions
Here is a summary of Terms for all catered events.
Upon booking a more detailed Contract will follow.
All events require 8 signed Contract and B 35% deposit to hold the date. The balance due must be paid in full on the day of the event upon completion of services unless prior arrangements have been made. If payment in full is not received on the date of the event. surcharges will be applied.
Types of Payment include: cash, credit cards, bank checks, & business/personal check drawn on local banks
A guaranteed minimum head count is required upon booking 8. the final head count 7 days before the event. The guaranteed number is the MINIMUM number for which you will be billed. After receiving the final head count, you may add to it unto the day before your event with the exception of the lobster count which can only be added up to 3 days in advance of your event.
All pricing is subject to appropriate state tax. Additionally, for on-site catering at your location (full buffet service), a 20% taxable Bullet Service Fee will be applied. This is not a gratuity. But the fee for on-site cooking & buffet Service.
Full Bullet Service Includes: staff cooking & serving equipment utensils, on-site cooking & buffet service to guests condiments quality disposables. bullet tables & coverings (linens) beverage (when beverage service ordered) trash cans with liners and complete buffet cleanup.
Customer must provide guest tables w/ table coverings chairs. And trash disposal. We can assist you with rental arrangements
On-site accessibility to catering truck is required. Additional charges may apply for unusual or time-consuming requests.
For events requiring travel over a 50-mile round trip, a travel charge will apply.
If you have questions about anything, please don't hesitate to contact us.
We are here for you!